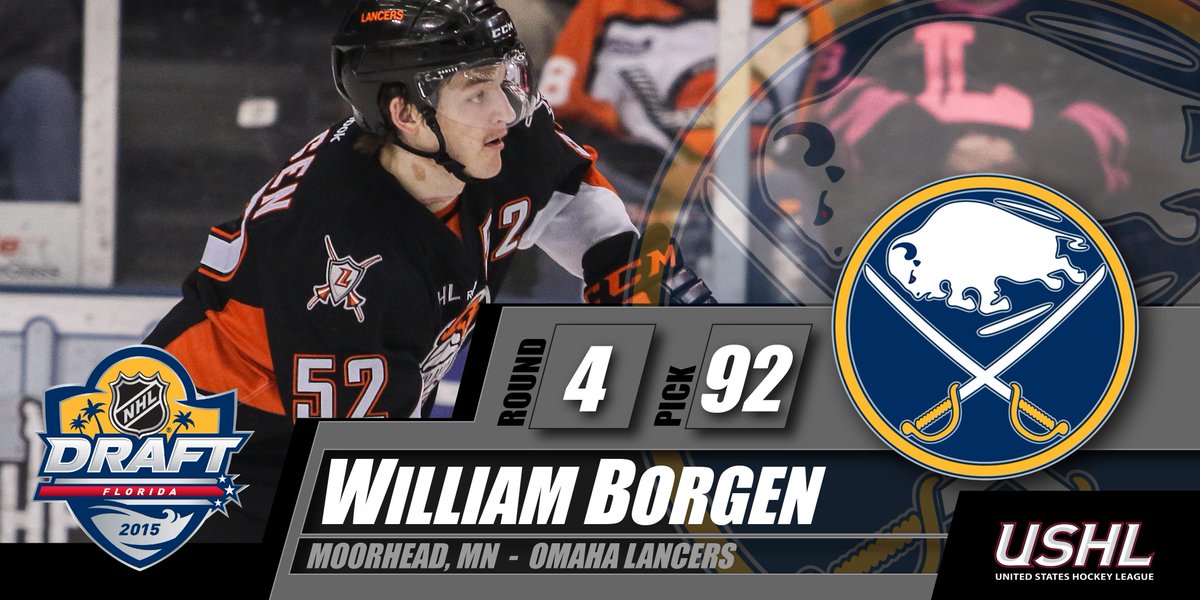 Photo Credit: USHL
Incoming St. Cloud State University Freshman defenseman Will Borgen saw a mighty jump in his stock as he was selected 92nd overall (first pick in round four) by the Buffalo Sabres in the 2015 NHL Entry Draft on Saturday, June 26. He was the third player chosen by the Sabres after #2 overall pick Jack Eichel of Boston University and #51 choice Brendan Guhle of Prince Albert of the Western Hockey League, another 6'2 defenseman. Another interesting choice for Buffalo was 182nd pick, defenseman, Ivan Chukarov who skated for the Minnesota Wilderness, a Tier II Junior hockey program in Cloquet, MN. Overall, Buffalo nabbed four defenseman in this years draft. Borgen joins SCSU Sophomore Judd Peterson as Sabres draft choices.
Borgen, who played through his senior season at Moorhead, MN H.S. was ranked as the 114th North American skater in the final Central Scouting projections prior to the 2015 NHL Entry Draft.  The 18-year-old  mobile defenseman with a solid 6'2″ frame has been eyed by the Sabres since last winter and he attended a workout session with the Sabres after the NHL combine. Nevertheless, he jumped mightily in the draft as the first pick of the fourth round. However, it was not a surprise to SCSU coach Bob Motzko who was quoted as saying " He probably emerged a little more on the scene because there were more eyes on him. Last year, he was a guy to watch before the season started. I just think he was a year older, more mature". "(I) Couldn't be more excited to be drafted by the Buffalo Sabres. Thanks to everyone for the support." Borgen tweeted after being selected.
The SCSU recruit is a right-handed shot who has some room to add to his 6'2″ 180 pound frame. He finished the 2014-15 season for Moorhead High School then added another 18 games with Omaha of the United States Hockey League putting up 1 goal and 5 assists. Borgen compiled 18-54-72 with 131 PIM in 84 career games at Moorhead High School. He was also a finalist for the Minnesota Mr. Hockey Award following his 2014-15 season.
Borgen will join Senior Ethan Prow, Junior Niklas Nevalainen, Sophomores Nathan Widman and Mika Ilvonen and fellow freshman James Schuldt, Clark Kuster and Jon Lizotte on the blue line in 2015-16 for the Huskies.
The Buffalo Sabres 2015 Draft Class will be showcased on July 10th at the First Niagara Center in Buffalo in their Blue and Gold scrimmage.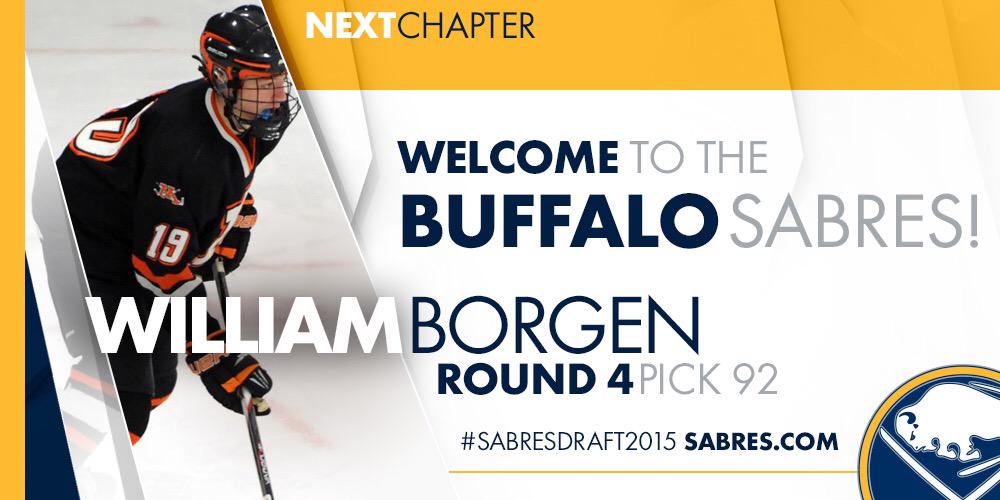 Photo Credit: Buffalo Sabres
Will Borgen Highlight Omaha Lancers: